Being healthy is mostly the main priority of everybody nowadays. Being healthy means you can do a lot of things, by having a healthy mind and body you can avoid certain illnesses or diseases.
The question is how can we attain a healthy life when we are loaded with a lot of responsibilities both at home and workplace? How can we better take care of ourselves when we're stuck with a hefty load of work schedules, appointments, business meetings and gigs throughout the days and nights? Our schedule is very hectic to the point where we can't take a rest at all.
Truth be told, a lot of fast metabolism dieters are hesitant to start the diet because they feel like they're going through the same routine again. Stick with the diet for the first few days, then go totally off track later on, until such time that they will discontinue, because no. 1 reason – hectic schedules are eating their time up in dieting.
How do we overcome this challenge in losing weight?
Almost all of us are undergoing that same situation you're in. It's not healthy for us to feel stressed out all the time. We need to get rid of stress and instead, enjoy every moment we make as we go on the fast metabolism diet journey. For our challenged dieters who have a very tough schedule, you can apply these tips on how to stay on track on the fast metabolism diet.
1. Have a schedule planner with you
Like our office or business appointments, we need to treat our diet like one too. Before you start your day, enlist everything you're bound to accomplish for the entire day. From the moment you wake up until you sleep, list every appointments you have. Office tasks, business meetings, appointments, projects, deadlines, night-out gigs, everything.
After you list them all, take extra special note of the "vacant time" you had in your schedule. And before you argue, no. It's not excusable to say "But I don't have vacant time at all!" Truth is, you  always have a vacant time, you just refused to acknowledge it. Why do I say so? What about your early morning schedule? Shall we say from 5am to 7am? Or your 30-1 hour office breaks in between? Or maybe from 5pm onwards you're already vacant, or the late 10pm onwards time? We all have a vacant time, after all, we all need to take a break.
So, going back to the tip, fill in your "fast metabolism diet appointments" with your vacant time. And like we said, you need to attend to them diligently, like how diligent you are in attending your business appointments. You can do grocery shopping, monitor weight or plan your next meal in these vacant times. Always keep in mind that if you intentionally missed your fast metabolism diet appointments, you would lose its opportunity. The opportunity to lose weight and live a healthier lifestyle.
2. Organize your exercise schedule.
In relation to the first tip, let's take a closer look at your schedule. If you are loaded from 8am to 10pm, you can have your exercise time earlier. If you're an early riser, you can have your exercise earlier than 8am, maybe on 5 or 6am, then have a breakfast within 30 minutes of waking, and lastly, have at least 30-45 minutes of phase-specific exercise. In the remaining time before you go to office, you can do your morning ritual and prepare yourself in going to office.
If you have a vacant time after working hours, you have the option to do your exercise afterwards right after you go home. If you are busy from the crack of dawn until very late at night, you can divide your exercise in your 30 minute break interval. Example you can have a brisk walk exercise for 15 minutes while going to your office, have a brisk walk on stairs for another 15 minutes while you hop into different floors in your office, and finally, have another round of brisk walk when you get home.
3. Plan and Pack your Foods
One of the most challenging task for our dieters with very hectic schedules is preparing foods. They simply don't have time to prepare some foods in the morning, hence, they are more prone into binge eating. It is advisable to prepare and cook your food at night, put it over the freezer, then you'll just reheat your foods the next morning. If possible, make sure that you prepare foods enough for you  to sustain for the day. It will be better if you can also have your lunch and snacks prepared, not just your breakfast. In this way, you are ensured that you are eating healthy and phase-specific foods in the diet, and reduces the temptation of binge-eating.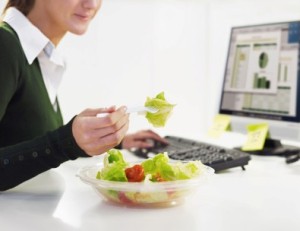 4. Eat healthy foods at work
Are you exhausted in working for few hours? Tempted to go with your colleagues and order some mouthwatering burger, spaghetti, sandwich and soda? Before you do it, think about the previous tip once again! Right! You packed that healthy snack with you! So grab it and eat it during your break, or when you're feeling hungry! You can pack some oatmeal and other phase-specific fruits in Phase 1, fill them with hot water to make an instant oatmeal! Or you can have your vegetable salad in phase 2, or some healthy and yummy fats in Phase 3! What matters most is that you stick to your diet and only eat the healthy foods while you're in the office.
6. Enjoy your office events and night outs.
Are you having a part event in the office? Or some night-out party drinking after work? Fret not! Enjoy these events and don't stress yourself up! You can apply these various tips to get you prepared and for you to enjoy these events:
Dealing with Alcoholic Drinks in FMD
Fast metabolism diet tips on attending events